About 2 months ago I purchased a new car, a 2006 Acura TSX. I thought I would share some my purchasing decisions, the process, and provide a little bit of a car review.
So when I started this process, I had a list of requirements:
Could drive across the country comfortably (sit in for 8 hours in 1 day no problem)

Could tow a boat

Could seat 4 people comfortably

Is a manual (I am only this age once, why not)

Is fun to drive, and is a bit sporty.

Costs less then $16k.

I can get in it, turn the key, and go.

The Searching Process:
By far the hardest thing to find was the combo of sporty + manual and comfortable long distance riding. So what I learned is a "comfortable ride" translates into "luxury". I needed to search for sporty luxury cars that were larger vehicles so they could tow a boat and seat at least 4.
This subset included:
Acura (luxury model of Honda)

Audi models

Some BMW's

Dodge Charger

Some Lexus's

I found the normal "sporty" cars were just painful to drive for long periods of time. These included:
Honda Civic Si

Scion tC

Acura RSX (Integra)

Mazda RX-8

Mitsubishi Eclipse

Cars that were very close:
Nissan 350Z

Ford Mustang

Honda Accord

Mazda 6

I ruled out BMW due to the cost and maintenance expense. I found
http://www.cars.com
very useful to browse and also search for cars. It helped me compare one car to another similar car. I also did a few trips to used car lots, told them what I was looking for, and went on a bunch of short test drives. When I drove the 2006 Acura TSX, I just knew I had finally found my car. The search process took me 4 months to find that this model was what I wanted. I limited the range to 2005-2008 Acura TSX models. This car lists at $35,000ish and my budget was less than 1/2 of that. So now I finally found the model of car I needed to search for. They don't make too many of these as manuals, and it took me another 2 months to find the exact car I wanted to buy. I decided to buy a car that had more miles on it for a lower price: A 2006 Acura TSX 6 speed with 88,000 miles on it for $13,000. I could get one with 40,000 miles for $17,000 but that is a $4k difference in price. Here is my graph that shows blue book value along with miles.
Acura 2006 TSX $ Value vs Miles (in thousands):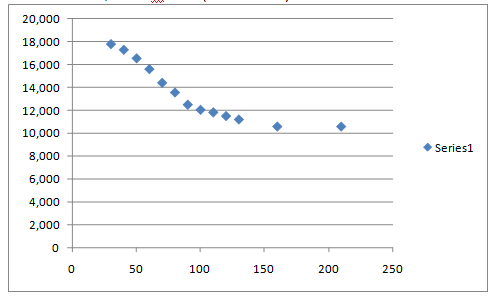 I decided to save the $4,000 as a maintenance budget, and get the lower "cost per mile". I think by using this logic you can actually get a "really good deal" with modern used cars. But you have to be interested in the car for the long haul. By doing this, my cost (in value) per mile is less then 15% of what it would be at 40k miles (slope of the line flattens after 100,000 miles). Also, according to the maintenance reports, most maintenance happens after 120k for these cars. This means that if I have this car for a long time, I'll have to pay it anyway. So I decided to take the risk and bought the cheaper, higher mileage car. So when you do the math on the value and cost per mile it's pretty interesting. Assuming that this thing is going to be worthless at 200k miles, which I know KBB doesn't say, but I just can't see cars holding value for that long, it puts the cost per mile at $0.13. This is interesting because that basically means that unless gas is $4 a gallon, the car's depreciation value is actually more expensive than the gas. This also means the car's expense is laid out over 5-6 years. Which I think is perfectly reasonable for a car. Also for those penny pinchers out there like me who don't want to pay the parking meter, for the 10 mile drive that costs you $2.25 do you think not paying the $1.50 to the parking meter is worth it? Yeah, pop those quarters. Also, with these descending graphs you can clearly see a car is not an asset. It is a long term expense which takes its form in a pile of cash up front. But the actual cost is in $ per year, and $ per mile.

Conclusion:
I love my car! It was absolutely the right car to purchase. The purchasing process was a lot of work, but it was worth it.
My favorite parts of the car:
Automatic Climate control AC. This is pricelessly wonderful and I don't think I'll ever go back

A 2.2L 210HP engine in a smaller car. This thing has zip but also just power. It can hold 80mph on cruise control and even accelerate at that speed. The power curve above 110 is very shallow.

Quietness - In America this is way too undervalued. I like to be inside a quiet car so I can hear the conversation or have a phone call. This car is very quiet.

All of the seat adjustments.

Heated side mirrors (winter and water sucks).

Things that are taking some getting used to:
The clutch is pretty sensitive, due to that the engine's 1st gear is very low and it makes smooth shifting on the low end very challenging. I jerk my passengers around most of the time, and it's really tempting to just start in second gear.

Stereo really is sub par (for being a luxury car). No iPod hookup by default (I'll have to install one).

Hitch install was "tricky" to say the least. Plan at least 5 hours.

Blind spots are very present, the leaning forward and using the side mirrors more helpful, but actually checking is really important.

No auto passenger side window? Tiny detail but why not? The 2010 Mustang had it.

I would highly recommend this car for anyone with the same needs/goals I had.